Rectangular Plastic Tanks
Open Top Plastic Tanks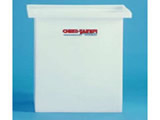 Question: Hello. I am looking for rectangular plastic tanks 500 gallon open top. I need to store water. Do you have this?
Answer: For the storage you have requested, the Rectangular Water Storage Tanks are a great choice. These tanks feature a flat bottom, open top, and reliable walls for storing your needed liquids. Since these tanks have an open top design, they are easy to fill and empty so storage is easy. These rectangular tanks come in capacities ranging from 2 gallons to 1800 gallons (including a 530 and 540 gallon capacity) to meet your storage needs. View more Plastic Tanks
Features: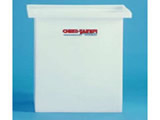 These rectangular tanks were designed to help with storage of liquid materials ranging from water to chemical. With this kind of versatility, these tanks are equipped with several features to help ensure a safe, hassle-free storage. These features include:
Seamless Polyethylene Construction: The polyethylene material is a highly durable material that is equipped to handle water and several other chemicals. In addition, these poly tanks have been constructed using only one piece of polyethylene. This offers a highly resistance to leaking or cracking.
Open Top: These tanks are also made with an open top design. This provides as easy way to fill tanks with water or chemicals. It also makes this tank well equipped to handle mixing applications.
Material Options: In addition to polyethylene, these rectangular plastic tanks are also available in a polypropylene and FRP encased model.

Polypropylene: This material is very similar to polyethylene and can provide resistance to chemicals and water. The main difference is that the polypropylene materials has a higher maximum operating temperature of 212° F
(polyethylene max is only 140° F).
FRP Encased: The standard polyethylene and polypropylene models are equipped for storage but require support stands if the tank has a height higher than 18". The FRP encased tanks take these standard tanks and surround them in fiberglass reinforced polyester shell.
Learn More

If you have questions about products, give us a call at 1-772-646-0597 or request a price quote.
© Copyright GEI Works 2011-2020. All rights reserved.
GEI Works is a global solutions provider offering our expertise and products to the following states, countries, territories and provinces:

States:

Alabama, AL | Alaska, AK | Arizona, AZ | Arkansas, AR | California, CA | Colorado, CO | Connecticut, CT | Delaware, DE | Florida, FL | Georgia, GA | Hawaii, HI | Idaho, ID | Illinois, IL | Indiana, IN | Iowa, IA | Kansas, KS | Kentucky, KY | Louisiana, LA | Maine, ME | Maryland, MD | Massachusetts, MA | Michigan, MI | Minnesota, MN | Mississippi, MS | Missouri, MO | Montana, MT | Nebraska, NE | Nevada, NV | New Hampshire, NH | New Jersey, NJ | New Mexico, NM | New York, NY | North Carolina, NC | North Dakota, ND | Ohio, OH | Oklahoma, OK | Oregon, OR | Pennsylvania, PA | Rhode Island, RI | South Carolina, SC | South Dakota, SD | Tennessee, TN | Texas, TX | Utah, UT | Vermont, VT | Virginia, VA | Washington, WA | West Virginia, WV | Wisconsin, WI | Wyoming, WY

Countries, Territories and Provinces:

Malaysia, MY | Indonesia, ID | Antigua and Barbuda, AG | Bahamas, BS | Barbados, BB | Belize, BZ | British Virgin Islands, VG | Cayman Islands, KY | Dominican Republic, DO | Grenada, GD | Haiti, HT | Jamaica, JM | Montserrat, MS | Puerto Rico, PR | Saint Lucia, LC | Saint Vincent and the Grenadines, VC | Trinidad and Tobago, TT | Turks and Caicos Islands, TC | United States, US | US Virgin Islands, VI | Mexico, MX | Campeche, CM | Quintana Roo, QR | Yucatan, YU | Central and South America | Canada, CA | Alberta, AB | British Columbia, BC | Manitoba, MB | New Brunswick, NB | Newfoundland and Labrador, NL | Northwest Territories, NT | Nova Scotia, NS | Nunavut, NU | Ontario, ON | Prince Edward Island, PE | Quebec, QC | Saskatchewan, SK | Yukon, YT