Power Blanket Drum Heater
Drum Heater Blanket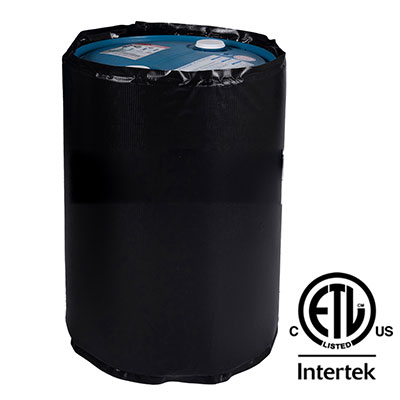 Power blanket drum heaters are the right solution for heating fluids stored ln drums and barrels. Temperature-sensitive fluids have issues maintaining viscosity during the colder temperatures. Our drum heater blanket protected against freezing so your chemicals and fluid stay at their optimum viscosity and flow. The 55-gallon drum heater ensures your fluids and materials stay at their target temperature with even heating for your entire drum.
Safe to -40°F below, our power blanket drum heater works better than standard insulated blankets and bands with threshold control options. The insulated, full-wrap design is water-resistant, easy to assemble and move wherever you need it. This efficient, industrial barrel heater eliminates waste and lowers the costs often experienced with improper storage. Made in the US, your drum heater ships faster, saving you both time and money. Call us today for more information and pricing!

Questions about Drum Heater Blanket ? We can help! Call us at 1-863-261-8388 or request a price quote.
---
Power Blanket Drum Heater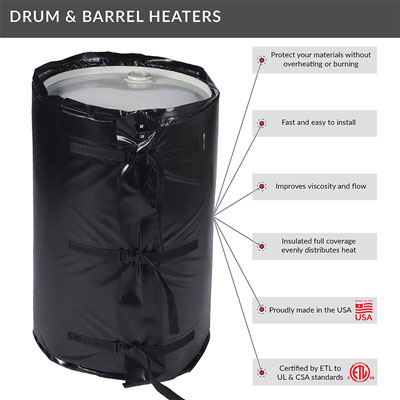 Available in several sizes, our power blanket drum heater encloses your drum or barrel, giving you even, uniform heat throughout your entire barrel. With 3 individual heat zones, our drum heater adjusts to keep your barrel at a consistent temperature. Our full-wrap, insulated barrel blanket is water-resistant and comes with cinch straps to secure your barrel for a tight fit. Designed to use on both poly and steel drums, this water-resistant, 55-gallon drum heaters is ETL certified to UL, CSA, and CE safety standards.
Our drum heating blankets offer tough, durable heating, with two voltages: 120 volts and 240 volts and three different thermal ratings. Each drum heater blanket is available with an adjustable or fixed thermostat that prevents overheating or unpredictable temperatures. Easy to install, remove and re-install our industrial drum heaters wherever you need them most.
Drum Heater Blanket Features
Preset internal 100°F temperature
Available in 120 volts and 240 volts
Won't scorch or burn fluids
Insulated, full-wrap design with cinch straps
Three individual heat zones with automatic adjust

Safe for both steel & poly drums
Easy to install
Water resistant
Safe for outdoor use
Certified by ETL to UL & CSA safety standards
Drum Heater Blanket Specifications
| SIZE | HEATED DIMENSIONS | FINISHED DIMENSIONS | CONTENT TEMPERATURE | HEATED AREA | VOLTAGE | WATTAGE | PLUG |
| --- | --- | --- | --- | --- | --- | --- | --- |
| 55 GALLON | 82" x 36" | 82" x 36" | Preset | 20.50 sq ft | 120 VAC | 800W | 15 AMP |
*Other sizes and custom drum blankets available upon request
---
Power Blanket Drum Heater Uses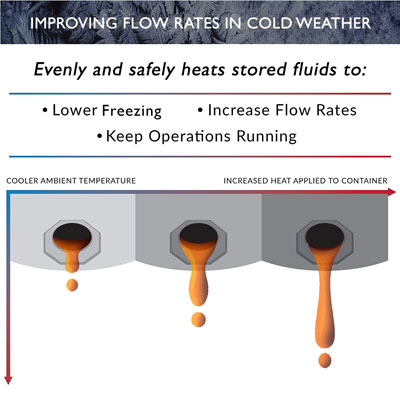 Our power blanket drum heater is used across many industries for drum and barrel heat control. This 55-gallon barrel heater provides reliable, efficient heating, eliminating hot and cold spots. To ensure proper viscosity of chemicals and fluids, our thermal drum heater gives you full-coverage across your entire container surface. Available in variety of sizes, our power blankets give you confidence that your fluids are kept at their ideal viscosity throughout colder temperatures.
Our drum heater blankets can be used for:
Freeze Protection
Cold Weather Storage
Melting of Solids
Thermal Mixing
Viscosity Control
Find out more about our Power Blanket Drum Heater, as well as our other power blanket heater products. We can help you find exactly what you need for your specific job! Talk with one of our specialists today!
© Copyright Water Storage Containers 2011-2023. All rights reserved.