Potable Water Storage Bladder Tanks
FAQ: What is the footprint for a water storage tank?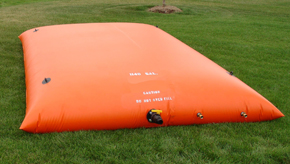 Question: Hello. I was looking at your potable water storage bladder tanks for drinking water. I saw the capacities listed but I did not see what the footprint for these tanks are. I am looking for a 5000 gallon tank. What is the size that I would require for this type of tank?
Answer: Thank you for contacting us! If you are visiting our website, you should be able to find a table on each product page that displays the approximate filled sizes for these Drinking Water Storage Bladder. This would give you an idea of the space required for the storage of any given tank size. For a 5000 gallon tank, your filled size would be seventeen feet in length, sixteen feet in width and two and half feet in height (17' L x 16' W x 2.5' H).

If you have questions about products, give us a call at 1-772-646-0597 or request a price quote.
Potable Water Storage Bladder Tank Features: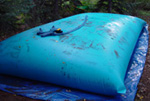 The collapsible drinking water bladder tank is designed for flexible potable water storage and is designed with fabrics that have been FDA and NSF 61 approved. Typical features you will find on this tank include:
Fabrics: Polyurethane, Polymer Alloy, E PVC Coated Fabric
Fittings: 3/4" through 2"
Typical Fitting Materials: Aluminum, Stainless Steel, Polypropylene
Optional Fittings: Ports, Emergency Plugs, Repair Kits, Spare Parts, Pressure Relief Valves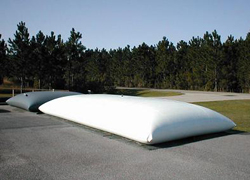 As mentioned before, each tank is designed with a standard dimension or filled size that matches your requested tank capacity. However, if you require a tank that is set to a specific tank dimension or can meet a specific height restriction, please don't hesitate to send us your requirements. The collapsible tank is one of the most flexible storage options available and is often made to meet site-specific storage requirements.
Potable Water Storage Bladder Tanks Advantages:
When compared to other storage tank options (such as plastic tanks, steel tanks, or fiberglass tanks) the collapsible tank offers several unique advantages. Some of these benefits include:
Low Profile
Flexible Capacity Range
High Strength Exterior
Materials Contain FDA approval
Withstands a Wide Range of Temperatures
Many Sizing Options
Low Shipping Costs
Ships Empty to New Locations
Multiple Tanks Fit within Same Shipping Vehicle
Often Placed in Crawl Spaces or Under Decks

If you have questions about products, give us a call at 1-772-646-0597 or request a price quote.
© Copyright GEI Works 2011-2020. All rights reserved.
GEI Works is a global solutions provider offering our expertise and products to the following states, countries, territories and provinces:

States:

Alabama, AL | Alaska, AK | Arizona, AZ | Arkansas, AR | California, CA | Colorado, CO | Connecticut, CT | Delaware, DE | Florida, FL | Georgia, GA | Hawaii, HI | Idaho, ID | Illinois, IL | Indiana, IN | Iowa, IA | Kansas, KS | Kentucky, KY | Louisiana, LA | Maine, ME | Maryland, MD | Massachusetts, MA | Michigan, MI | Minnesota, MN | Mississippi, MS | Missouri, MO | Montana, MT | Nebraska, NE | Nevada, NV | New Hampshire, NH | New Jersey, NJ | New Mexico, NM | New York, NY | North Carolina, NC | North Dakota, ND | Ohio, OH | Oklahoma, OK | Oregon, OR | Pennsylvania, PA | Rhode Island, RI | South Carolina, SC | South Dakota, SD | Tennessee, TN | Texas, TX | Utah, UT | Vermont, VT | Virginia, VA | Washington, WA | West Virginia, WV | Wisconsin, WI | Wyoming, WY

Countries, Territories and Provinces:

Malaysia, MY | Indonesia, ID | Antigua and Barbuda, AG | Bahamas, BS | Barbados, BB | Belize, BZ | British Virgin Islands, VG | Cayman Islands, KY | Dominican Republic, DO | Grenada, GD | Haiti, HT | Jamaica, JM | Montserrat, MS | Puerto Rico, PR | Saint Lucia, LC | Saint Vincent and the Grenadines, VC | Trinidad and Tobago, TT | Turks and Caicos Islands, TC | United States, US | US Virgin Islands, VI | Mexico, MX | Campeche, CM | Quintana Roo, QR | Yucatan, YU | Central and South America | Canada, CA | Alberta, AB | British Columbia, BC | Manitoba, MB | New Brunswick, NB | Newfoundland and Labrador, NL | Northwest Territories, NT | Nova Scotia, NS | Nunavut, NU | Ontario, ON | Prince Edward Island, PE | Quebec, QC | Saskatchewan, SK | Yukon, YT