Impact Resistant Vertical Tank
---
Poly Water Storage Tank
Black Vertical Water Tanks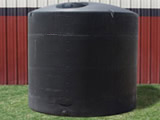 The Poly Water Storage Tank is a robust and economical way to store drinking water, rainwater water and other types of non-potable liquids. Constructed from high quality polyethylene these poly tanks feature a black exterior that helps to limit the amount of light that enters the tank, which helps to prevent algae growth inside the water storage tank during use.
Perfect for drinking water storage, these black vertical water tanks feature interiors that are FDA approved for safe potable water storage. Water storage tanks will also feature built-in grooves that allow the tank to be secured in your storage location. Typical sizing for black water tanks range from 200 to 3000 gallons.
Poly Water Storage Tank Features:
Material: Polyethylene
Interior Resin: FDA Approved for Potable Water
Color: White or Black
Specific Gravity of 1.5
10" or 18" Vented Lid (18" located on 2,500 and 3,000 gallon tanks)
Gallon Marker on Tanks
Fittings: 2" Bulkhead Fittings with Siphon Tube
Sizing Options
Poly Tank Benefits:
Safely Stores Potable Water
Dark Exterior Protects Against Algae Growth
Perfect for Both Indoor or Outdoor Storage
UV Stabilized for Protection from the Sun
Rust and Corrosion Resistant
Multiple Sizing Options
Typical Poly Water Storage Tank Applications:
Emergency Water Storage
Drinking Water for Construction Sites
Industrial Water Storage
Agricultural Supply
Backup Water Supply for Businesses and Facilities
Home Water Storage

If you have questions about these above ground water storage tanks please call us at +1-772-646-0597 or request a price quote.
Vertical Plastic Tanks are one of many storage options used to successfully store drinking water. In addition to these models we also offer fiberglass tanks, steel tanks and water storage bladders. Fiberglass and steel options are commonly used for long-term storage, while water bladders can be a great solution for temporary water storage. For more information on these and other poly water storage tank options please visit our Potable Water Tank options.
Vertical Plastic Water Tank

Part Number

Gallons

Diameter

Height

T200V
200 gallon
31"
70"
T300V
300 gallon
56"
34"
T550V
550 gallon
49"
72"
T1000V
1000 gallon
64"
79"
T1225V
1225 gallon
87"
54"
T1600V
1600 gallon
87"
68"
T1750V
1750 gallon
87"
74"
T2500V
2500 gallon
96"
91"
T3000V
3000 gallon
96"
107"
---
© Copyright GEI Works 2011-2018. All rights reserved.
GEI Works is a global solutions provider offering our expertise and products to the following states, countries, territories and provinces:

States:

Alabama, AL | Alaska, AK | Arizona, AZ | Arkansas, AR | California, CA | Colorado, CO | Connecticut, CT | Delaware, DE | Florida, FL | Georgia, GA | Hawaii, HI | Idaho, ID | Illinois, IL | Indiana, IN | Iowa, IA | Kansas, KS | Kentucky, KY | Louisiana, LA | Maine, ME | Maryland, MD | Massachusetts, MA | Michigan, MI | Minnesota, MN | Mississippi, MS | Missouri, MO | Montana, MT | Nebraska, NE | Nevada, NV | New Hampshire, NH | New Jersey, NJ | New Mexico, NM | New York, NY | North Carolina, NC | North Dakota, ND | Ohio, OH | Oklahoma, OK | Oregon, OR | Pennsylvania, PA | Rhode Island, RI | South Carolina, SC | South Dakota, SD | Tennessee, TN | Texas, TX | Utah, UT | Vermont, VT | Virginia, VA | Washington, WA | West Virginia, WV | Wisconsin, WI | Wyoming, WY

Countries, Territories and Provinces:

Malaysia, MY | Indonesia, ID | Antigua and Barbuda, AG | Bahamas, BS | Barbados, BB | Belize, BZ | British Virgin Islands, VG | Cayman Islands, KY | Dominican Republic, DO | Grenada, GD | Haiti, HT | Jamaica, JM | Montserrat, MS | Puerto Rico, PR | Saint Lucia, LC | Saint Vincent and the Grenadines, VC | Trinidad and Tobago, TT | Turks and Caicos Islands, TC | United States, US | US Virgin Islands, VI | Mexico, MX | Campeche, CM | Quintana Roo, QR | Yucatan, YU | Central and South America | Canada, CA | Alberta, AB | British Columbia, BC | Manitoba, MB | New Brunswick, NB | Newfoundland and Labrador, NL | Northwest Territories, NT | Nova Scotia, NS | Nunavut, NU | Ontario, ON | Prince Edward Island, PE | Quebec, QC | Saskatchewan, SK | Yukon, YT