Pick Up Truck Water Tank
FAQ: Is there a non-potable tank that I can use in my pickup?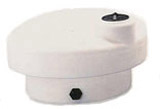 Question: Hi. I am looking for a pick up truck water tank that I can use to haul water around my facility. I am not sure if you have anything like this, but I am looking for something that can hold about 200 gallons. The water is not going to be used for drinking, just to water items around my facility. What would be a good option?
Answer: For transportation in the back of a pickup truck, there are a couple of different options you could consider. One of the most common options for this type of water mobility is one of our Plastic Pick Up Truck Water Tanks. Made in several different models, including an option designed specifically for pickup truck tanks, these tanks are typically made with a low profile to help with stabilization during various transport applications.

If you have questions about products, give us a call at 1-772-646-0597 or request a price quote.
Plastic Pickup Truck Features
The plastic pickup truck tank is the perfect robust option for transporting water in the back of a standard size pickup vehicle. These tanks are available in three of the following standard sizes:
210 gallons
325 gallons
425 gallons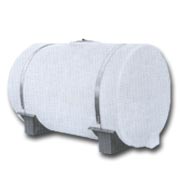 All pick up truck tanks are made from a durable, high-resistance polyethylene material that is naturally resistant to rust and corrosion. All tanks feature a low-profile setting that provides increased visibility out of the back of the truck.
Additional Portable Options
In addition to the standard size pick up truck water tank, we also offer several options to help with the transportation of water and other liquid materials. These tanks are made in several different shapes and models and include the following options:
Elliptical Poly Tanks
Horizontal Tanks
Plastic Leg Tanks
Small Rectangular Plastic tanks
Side Mount Wedge Tanks
Water Trailers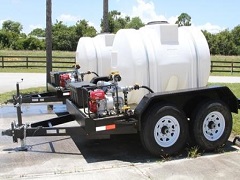 If you are looking for larger water transportation options, we also offer several water trailers in sizes ranging from 200 to 1600 gallons. These tank and trailer systems feature a polyethylene storage tank and robust outer trailer frames. This allows for successful transportation water to needed locations. Water Trailers have been used for any of the following transportation options:
Water Spraying
Vegetation Watering
Landscaping
Pesticide Control
Tree Spraying
Fire Suppression
Dust Suppression
To view these and other water transportation vehicles, check out our Portable Water Trailers & Tanks.
If you have questions about products, give us a call at 1-772-646-0597 or request a price quote.