Large Volume Water Containers
Large volume water containers are a quick and easy way to keep bulk supplies of water on hand during various operation. While we do offer several tank storage options (including plastic tanks, steel tanks, fiberglass tanks and pillow tanks), some of the most common options we provide to customers for bulk water storage are large pillow tanks and bulk corrugated steel storage tanks.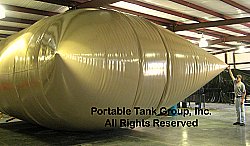 Large Bladder Tanks: One of the largest, most flexible water storage options available is the Large Water Bladder. Made from robust fabrics (such as urethane), these flexible tanks are able to store up to 210,000 gallons in a single storage unit. This makes them a favorite for use in military storage operations, bulk liquid storage and various other storage requirements. Depending on the type of liquid you will be storing in the tank, these bladders may feature drinking water or standard non-potable water fabrics to meet the requirements of your location.
If you have questions about these products, give us a call at +1-772-646-0597 or request a price quote. *Ask us about financing options!
Large Volume Water Container Options:
While the bladder above features an extremely large storage liquid storage options, we also offer several tanks that are able to store well about 5,000 gallons including the following: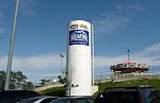 Steel Storage Tanks: Steel storage tanks are offered in two standard models: a standard pre-fabricated tank or a corrugated steel tanks. Shop built pre-fabricated tanks are built in vertical and horizontal models up to 40,000 or 50,000 gallons. They are typically restricted in size based on shipping and load weight requirements.
Corrugated steel tanks, by contrast, feature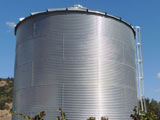 corrugated metal and can be built in sizes up to 400,000 gallons. Rather than shipping in one piece, these tanks are shipped in multiple pieces that are arranged and installed on site. These tanks will feature an interior liner that matches the liquid being stored in your tank.
Fiberglass Tanks: Fiberglass tanks are some of our strongest storage options and feature a fabric that will last for years. The maximum capacity for these tanks is typically around 20,000 gallons.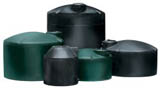 Vertical Plastic Tanks: While most plastic tanks are not designed in large storage options, we do offer vertical storage tanks that can be built in sizes up to 10,000 gallons.
If you have questions about these large volume water tanks, give us a call at +1-772-646-0597 or request a price quote. *Ask us about financing options!

Large Volume Collapsible Tank Advantages:
When compared to plastic, steel or fiberglass fabrics, collapsible tanks can offer several advantages that these other units cannot. These advantages include any of the following:
Lowered Shipping Costs: While rigid tanks have only one available option for shipping, collapsible tanks can be shipped in multiple ways including:

Folded Up
Rolled Up
Several Tanks in the Same Shipping Truck


Large Capacities: Due to the size of a plastic tank, larger sizes are typically not available. Collapsible tanks, by contrast, can be built as large as 210,000 gallons in size and will still keep a low profile.

Equipped for Outdoor Conditions: While many plastic tanks are constructed from translucent fabric, collapsible tanks are not translucent and can be used in a wide range of outdoor conditions.
For more information, check out our Flexible Large Volume Water Containers.
---
© Copyright GEI Works 2011-2017. All rights reserved.
GEI Works is a global solutions provider offering our expertise and products to the following states, countries, territories and provinces:

States:

Alabama, AL | Alaska, AK | Arizona, AZ | Arkansas, AR | California, CA | Colorado, CO | Connecticut, CT | Delaware, DE | Florida, FL | Georgia, GA | Hawaii, HI | Idaho, ID | Illinois, IL | Indiana, IN | Iowa, IA | Kansas, KS | Kentucky, KY | Louisiana, LA | Maine, ME | Maryland, MD | Massachusetts, MA | Michigan, MI | Minnesota, MN | Mississippi, MS | Missouri, MO | Montana, MT | Nebraska, NE | Nevada, NV | New Hampshire, NH | New Jersey, NJ | New Mexico, NM | New York, NY | North Carolina, NC | North Dakota, ND | Ohio, OH | Oklahoma, OK | Oregon, OR | Pennsylvania, PA | Rhode Island, RI | South Carolina, SC | South Dakota, SD | Tennessee, TN | Texas, TX | Utah, UT | Vermont, VT | Virginia, VA | Washington, WA | West Virginia, WV | Wisconsin, WI | Wyoming, WY

Countries, Territories and Provinces:

Malaysia, MY | Indonesia, ID | Antigua and Barbuda, AG | Bahamas, BS | Barbados, BB | Belize, BZ | British Virgin Islands, VG | Cayman Islands, KY | Dominican Republic, DO | Grenada, GD | Haiti, HT | Jamaica, JM | Montserrat, MS | Puerto Rico, PR | Saint Lucia, LC | Saint Vincent and the Grenadines, VC | Trinidad and Tobago, TT | Turks and Caicos Islands, TC | United States, US | US Virgin Islands, VI | Mexico, MX | Campeche, CM | Quintana Roo, QR | Yucatan, YU | Central and South America | Canada, CA | Alberta, AB | British Columbia, BC | Manitoba, MB | New Brunswick, NB | Newfoundland and Labrador, NL | Northwest Territories, NT | Nova Scotia, NS | Nunavut, NU | Ontario, ON | Prince Edward Island, PE | Quebec, QC | Saskatchewan, SK | Yukon, YT