Grey Water Collection Tank
FAQ: What tank would be best for small-scale rain water collection?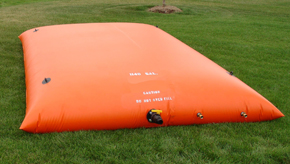 Question: I am interested in a grey water collection tank. I am trying to collect rain water for a fairly small property. My lawn requires irrigation or they die. I was curious about your collapsible bladder tank. I have a place under a deck that is higher than my back yard. That could help with gravity feed. Can these tanks be stored in that type of a location?
Answer: The Rain Water Bladder Tank is a great choices for this type location and is often used under decks or even in basements to create convenient storage for your area's location. Once in their desired storage location, these tanks are then connected to gravity feeds or other hoses to direct your water to the appropriate location.


If you have questions about products, give us a call at 1-772-646-0597 or request a price quote.
Grey Water CollectionTank Specifications
Collapsible tanks are designed for flexibility and are often used for locations that have a small storage space, limited height, or large capacity storage needs. Due to their low profile, these tanks are a great choice for water storage almost any location.
Capacities: 1 to 210,000 gallons
Standard Fittings: 3/4" through 2"
Optional Fittings: drain ports, repair kits, pressure relief valves, parts
Fabrics: Multiple fabric options available, including fabrics that are NSF 61 and FDA approved for potable water.
Rain Water Tank Advantages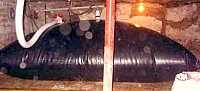 The collapsible tank is a great option for rainwater collection methods as it often fits in tight crawl spaces or under decks. When compared to a hard plastic tank, these flexible units can offer some of the following advantages:
Economical
Flexible
Low Profile for Tight Locations
Fits in Existing Cisterns (old or leaking)
Easy to Transport: Unlike a rigid plastic tank, a collapsible tank will lie flat and can even be folded when it is in storage. This makes the tank easier to move around and save you greatly in transportation costs.
When using this grey water collection tank in outdoor or even indoor locations, a ground cloth is often placed underneath the tank to help further protect against abrasion or natural wear. This can help increase the lifespan of your storage unit.
See more Collapsible Tank Applications

If you have questions about products, give us a call at 1-772-646-0597 or request a price quote.
© Copyright GEI Works 2011-2020. All rights reserved.
GEI Works is a global solutions provider offering our expertise and products to the following states, countries, territories and provinces:

States:

Alabama, AL | Alaska, AK | Arizona, AZ | Arkansas, AR | California, CA | Colorado, CO | Connecticut, CT | Delaware, DE | Florida, FL | Georgia, GA | Hawaii, HI | Idaho, ID | Illinois, IL | Indiana, IN | Iowa, IA | Kansas, KS | Kentucky, KY | Louisiana, LA | Maine, ME | Maryland, MD | Massachusetts, MA | Michigan, MI | Minnesota, MN | Mississippi, MS | Missouri, MO | Montana, MT | Nebraska, NE | Nevada, NV | New Hampshire, NH | New Jersey, NJ | New Mexico, NM | New York, NY | North Carolina, NC | North Dakota, ND | Ohio, OH | Oklahoma, OK | Oregon, OR | Pennsylvania, PA | Rhode Island, RI | South Carolina, SC | South Dakota, SD | Tennessee, TN | Texas, TX | Utah, UT | Vermont, VT | Virginia, VA | Washington, WA | West Virginia, WV | Wisconsin, WI | Wyoming, WY

Countries, Territories and Provinces:

Malaysia, MY | Indonesia, ID | Antigua and Barbuda, AG | Bahamas, BS | Barbados, BB | Belize, BZ | British Virgin Islands, VG | Cayman Islands, KY | Dominican Republic, DO | Grenada, GD | Haiti, HT | Jamaica, JM | Montserrat, MS | Puerto Rico, PR | Saint Lucia, LC | Saint Vincent and the Grenadines, VC | Trinidad and Tobago, TT | Turks and Caicos Islands, TC | United States, US | US Virgin Islands, VI | Mexico, MX | Campeche, CM | Quintana Roo, QR | Yucatan, YU | Central and South America | Canada, CA | Alberta, AB | British Columbia, BC | Manitoba, MB | New Brunswick, NB | Newfoundland and Labrador, NL | Northwest Territories, NT | Nova Scotia, NS | Nunavut, NU | Ontario, ON | Prince Edward Island, PE | Quebec, QC | Saskatchewan, SK | Yukon, YT