Fiberglass Underground Water Storage
Long-Term Fiberglass Water Storage Tanks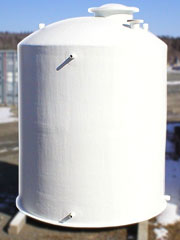 The Fiberglass Underground Water Storage Tank is one of our most robust and long-lasting water storage options. Fiberglass tanks are built to be shaped into many different configurations and can accommodate a variety of liquid materials such as chemicals, drinking water, septic materials and fire suppression water. Fiberglass water storage tanks are built with a high-strength resin designed to accommodate the intended underground liquid storage.
Fiberglass storage tanks can be used in many different ways that include rainwater collection, emergency water supply, drinking water, non-potable water storage, waste water and some chemicals. Also known as frp tanks, fiberglass water storage tanks can also supply water to irrigation and fire sprinker systems, utilities and more.
Fiberglass Water Tanks Features
Sizing of Fiberglass Tanks
Robust Fiberglass Construction
Light in Weight
Interior Resins to Match your Applications
Able to Withstand Extreme Temperatures
Standard Buried Depth: Up to 36 inches (36")
Additional Options: Tanks for Increased Depths, Traffic Rated Tanks
Fiberglass Water Tanks Benefits
High Resistance to Cracking and Denting
Easy to Install
Leak-Proof
Will Not Rust or Corrode
Drinking Water Approved Resins Available
Fiberglass Water Tanks Typical Applications
Rainwater Collection
Water Supply to Sprinklers, Laundromats and Utilities
Drinking Water Storage
Emergency Water Supply for Businesses, Hospitals, and Homes
Septic Tanks


If you have questions about Fiberglass Underground Water Storage Tanks, give us a call at 1-863-261-8388 or request a price quote.
Fiberglass Underground Water Storage Tank Specifications

Capacity (gal)

Dimensions

Spill

Weight (lbs)

525
5' D x 4'8"
-
147
750
-
-
200
1050
5' D x 9'3"
-
245
1250
5' D x 10'11"
-
340
1550
5' D x 13'5"
-
434
1800
5' D x 15'7"
-
504
2500
7' D x 13'
-
675
3250
7' D x 13'6"
-
1750
5000
8' D x 17' 8.5"
5165
2050
6000
8' D X 20' 6.5"
6084
2100
10000
8' D x 31'6.5
9816
3300
11000
8' D X 34' 4"
10763
4000
12000
8' D X 37.5'
11382
4200
10000
10' D X 15'
10566
3300
11000
12' D X 13'
11000
3500

Fiberglass material is extremely flexible and easy to customize. If you need a tank that is a different size than listed above, please give us a call.

*For Potable Water Add 10%
**Escort Required for Transportation

All Tanks include Inlet, Outlet, Overflow/Drain, Vent and a 20" Manway
Request a Technical Drawing
Standard Fiberglass Water Tank Fittings
Standard Fittings are either galvanized (up to 2") or PVC (up to 4")
Flanged Fittings, ABS, or Other Fittings are Considered Specialty and are Extra
Fiberglass Water Tank Accessories

Description

Dimensions

Weight

PIP Adapter
20" D x 4"
-
20" EXTENSION PER FOOT
20" D x 12"
20
24" EXTENSION PER FOOT
24" D x 12"
27
30" EXTENSION PER FOOT
30" D x 12"
35
Lift Eye
-
-
NYLON Tie-Down Strap
4" Wide
5
Jaw-&-Jaw Turnbuckle, 2
-
10
6-Hole Junction Bw/ rings
9"x14"x9"
6

Standard construction of this fiberglass underground water storage tank allows you to bury it up to 36 inches (or three feet). If you will need to be burying this tank deeper than three feet or if you need a tank that is traffic-rated, please specify your requirements so your tank can be adjusted to safely meet your needs.
Fiberglass is an extremely durable and flexible material that can be made to multiple shapes and sizes. If you need a tank that meets a specific size requirement, please don't hesitate to give us a call.

If you have questions about Fiberglass Underground Water Storage Tanks, give our sales team a call at 1-863-261-8388 or request a price quote.
>
© Copyright Water Storage Containers 2011-2023. All rights reserved.
Water Storage Containers is a global solutions provider offering our expertise and products to the following states, countries, territories and provinces:

States:

Alabama, AL | Alaska, AK | Arizona, AZ | Arkansas, AR | California, CA | Colorado, CO | Connecticut, CT | Delaware, DE | Florida, FL | Georgia, GA | Hawaii, HI | Idaho, ID | Illinois, IL | Indiana, IN | Iowa, IA | Kansas, KS | Kentucky, KY | Louisiana, LA | Maine, ME | Maryland, MD | Massachusetts, MA | Michigan, MI | Minnesota, MN | Mississippi, MS | Missouri, MO | Montana, MT | Nebraska, NE | Nevada, NV | New Hampshire, NH | New Jersey, NJ | New Mexico, NM | New York, NY | North Carolina, NC | North Dakota, ND | Ohio, OH | Oklahoma, OK | Oregon, OR | Pennsylvania, PA | Rhode Island, RI | South Carolina, SC | South Dakota, SD | Tennessee, TN | Texas, TX | Utah, UT | Vermont, VT | Virginia, VA | Washington, WA | West Virginia, WV | Wisconsin, WI | Wyoming, WY

Countries, Territories and Provinces:

Malaysia, MY | Indonesia, ID | Antigua and Barbuda, AG | Bahamas, BS | Barbados, BB | Belize, BZ | British Virgin Islands, VG | Cayman Islands, KY | Dominican Republic, DO | Grenada, GD | Haiti, HT | Jamaica, JM | Montserrat, MS | Puerto Rico, PR | Saint Lucia, LC | Saint Vincent and the Grenadines, VC | Trinidad and Tobago, TT | Turks and Caicos Islands, TC | United States, US | US Virgin Islands, VI | Mexico, MX | Campeche, CM | Quintana Roo, QR | Yucatan, YU | Central and South America | Canada, CA | Alberta, AB | British Columbia, BC | Manitoba, MB | New Brunswick, NB | Newfoundland and Labrador, NL | Northwest Territories, NT | Nova Scotia, NS | Nunavut, NU | Ontario, ON | Prince Edward Island, PE | Quebec, QC | Saskatchewan, SK | Yukon, YT