Drinking Water Storage Tank
Plastic Rectangular Water Tank: Potable Water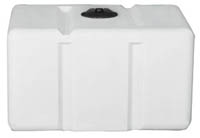 The Plastic Rectangular Drinking Water Storage Tank is a great way to store and transport water easily. Often placed in the back of pick up trucks, ATVs and trailers these plastic water storage tanks provide reliable and durable storage when it's needed most. Constructed from a polyethylene (plastic) material each tank is naturally high in UV resistance, chemical resistance and is FDA rated for potable water storage. Plastic Rectangular Tanks can be used for drinking water, agricultural liquids, chemicals, gray water and more around farms, businesses, industrial facilities, nurseries, storage areas and homes.

If you have questions about products, give us a call at 1-863-261-8388 or request a price quote.
Rectangular Tank Technical Specifications
| Capacity | Size (W x L x H) | Manway | Fittings |
| --- | --- | --- | --- |
| 50 | 41" x 27" x 17" | 8 " | No Fitting |
| 100 | 41" x 27" x 30" | 8 " | No Fitting |
| 200 | 48" x 36" x 29" | 8 " | No Fitting |
| 300 | 63" x 42" x 30" | 8 " | No Fitting |
| 500 | 92" x 48" x 31" | - | - |
Plastic Drinking Water Storage Tank Features
Polyethylene Construction
FDA Approved Interior Resin
UV Stabilized Exterior
Polypropylene Fittings and Accessories
Rectangular Plastic Water Tanks Benefits
UV Rated for Outdoor Storage
Durable, High Quality Exterior
Interior Resin Approved for Drinking Water
Easy to Transport
Great for Any Location
Successfully Stores Chemicals and Water
Rectangular Plastic Water Tanks Typical Applications
Residential Drinking Water Storage
Emergency Water Supply
Potable Water for Facilities and Businesses
Fresh Water on Construction Sites
Agricultural Water Storage
Water in Remote Locations
Rectangular Tanks are part of a large poly product line designed to successfully store and transport liquids. All made from the same polyethylene material, these tanks are well rated for successful drinking water storage. Additional models include vertical poly tanks, round horizontal tanks, underground tanks and more.
For freeze protection for your tank, consider our custom made Thermal Heater Blanket. They are exactly what you need when cold weather affects the viscosity of fuel, fluids, and other materials. Power blankets keep your tanks and smaller corrugated/steel tanks at constant temperature, preventing fluids from freezing in extreme conditions. We customize thermal blankets to meet your specific needs, no matter the tank size or shape. Call us today to find out more!

If you have questions about products, give us a call at 1-863-261-8388 or request a price quote.