Collapsible Drinking Water Storage Tanks
FAQ: Are there water tanks that are collapsible?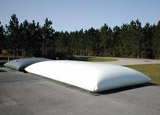 Question: Hello. I am looking for two collapsible drinking water storage tanks to hold a total of 300 gallons. I need these tanks to be collapsible so that when they are not full, we can easily store them in a very small storage space. Do you have anything that might work?
Answer: The collapsible Water Storage Bladder Tank is a great option of the type of storage you have described. Flexible in their design and storage ability, these tanks are often used for both small and bulk liquid storage of drinking water, gray water, and more.
As you have mentioned, one the best advantages to this type of tank is its ability to be rolled or folded up when not in use. This helps to decrease transportation costs and add ease to storage by requiring only a limited amount of storage space.

If you have questions about products, give us a call at 1-772-646-0597 or request a price quote.
Collapsible Tank Features
The collapsible water tank is designed for flexibility and offers increased savings in both storage ability and transportation costs. These water storage bladders come in several sizes and fabric materials to meet various liquid storage requirements. Features for this tank include:
Reliable Fabrics: When used for drinking water, all collapsible tanks are built with materials that are FDA and NSF 61 approved for the safe consumption and storage of potable water.
Fittings: The fittings used for these collapsible tanks typically include camlock, storz, or threaded types to match hoses, pipes or pumps. Standard sizes range from 3/4" through 2", with larger sizes available upon request.
Capacities: Storage capacities for these tanks can range anywhere from 25 to 210,000 gallons. This large range is well equipped to handle both small and large storage requirements.
Smaller Tank Size Ranges Available
For the specific storage you have requested, there are couple of different options you could consider. Our smallest listed tank features a capacity of 130 gallons. Two of these tanks would provide you with a storage of around 260 gallons. The second listed size available is a 300 gallon model. This could provide you with your complete storage capacity in a single tank.
In addition, we can also provide you with tanks built to any capacity you specify including 100 or 150 gallons.
Typical Storage Applications
Collapsible drinking water storage tanks are one of the most versatile drinking water storage options available and have been used in a wide range of locations including:
Drinking Water for Construction Sites
Humanitarian or Disaster Relief Water Storage
Residential Drinking Water Storage
Farm Water Storage
Military Operations
Water Storage for Remote Areas

If you have questions about products, give us a call at 1-772-646-0597 or request a price quote.
© Copyright GEI Works 2011-2020. All rights reserved.
GEI Works is a global solutions provider offering our expertise and products to the following states, countries, territories and provinces:

States:

Alabama, AL | Alaska, AK | Arizona, AZ | Arkansas, AR | California, CA | Colorado, CO | Connecticut, CT | Delaware, DE | Florida, FL | Georgia, GA | Hawaii, HI | Idaho, ID | Illinois, IL | Indiana, IN | Iowa, IA | Kansas, KS | Kentucky, KY | Louisiana, LA | Maine, ME | Maryland, MD | Massachusetts, MA | Michigan, MI | Minnesota, MN | Mississippi, MS | Missouri, MO | Montana, MT | Nebraska, NE | Nevada, NV | New Hampshire, NH | New Jersey, NJ | New Mexico, NM | New York, NY | North Carolina, NC | North Dakota, ND | Ohio, OH | Oklahoma, OK | Oregon, OR | Pennsylvania, PA | Rhode Island, RI | South Carolina, SC | South Dakota, SD | Tennessee, TN | Texas, TX | Utah, UT | Vermont, VT | Virginia, VA | Washington, WA | West Virginia, WV | Wisconsin, WI | Wyoming, WY

Countries, Territories and Provinces:

Malaysia, MY | Indonesia, ID | Antigua and Barbuda, AG | Bahamas, BS | Barbados, BB | Belize, BZ | British Virgin Islands, VG | Cayman Islands, KY | Dominican Republic, DO | Grenada, GD | Haiti, HT | Jamaica, JM | Montserrat, MS | Puerto Rico, PR | Saint Lucia, LC | Saint Vincent and the Grenadines, VC | Trinidad and Tobago, TT | Turks and Caicos Islands, TC | United States, US | US Virgin Islands, VI | Mexico, MX | Campeche, CM | Quintana Roo, QR | Yucatan, YU | Central and South America | Canada, CA | Alberta, AB | British Columbia, BC | Manitoba, MB | New Brunswick, NB | Newfoundland and Labrador, NL | Northwest Territories, NT | Nova Scotia, NS | Nunavut, NU | Ontario, ON | Prince Edward Island, PE | Quebec, QC | Saskatchewan, SK | Yukon, YT