3800 PSI Pressure Washer
Trailer Mounted Pressure Washers for Sale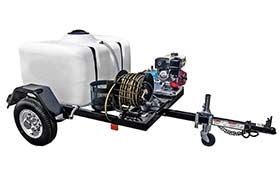 The 3800 PSI Pressure Washer is a cold water power washer that's powerful enough to handle most commercial needs. The trailer mounted pressure washer is the ideal commercial solution for contract cleaners, mobile detailers, schools, municipalities, and resorts. The commercial washer trailer has 3800 PSI of cold- water pressure to tackle even your toughest jobs. Equipped with a HONDA® engine and CAT PUMPS® triplex pump, this trailer mounted pressure washer with tank delivers strong and reliable cleaning action every time. We also offer hot/cold water trailer mounted pressure washers for sale, as well as pressure washers with other PSI ratings. See our Pressure Washer Comparison (pdf) or contact us for assistance!
This product may be eligible for financing; click here to start your financing application!

If you have questions about Pressure Washing Trailers, give us a call at 1-863-261-8388 or request a price quote.
Designed for Easy Maneuvering and Setup
The 3800 PSI Pressure Washer is DOT compliant for over-the-road use. Its well-built frame, sturdy construction increase maneuverability across rugged terrains. The power washing equipment trailer is ideal for commercial cleaning, sidewalks, building walls and exteriors, sanitation, playgrounds, park benches, stone walls, walkways, and a variety of facility needs. Set up for this commercial power washer trailer is quick and easy. Pull up to the job, connect the spray gun with specific nozzle, start the engine, and get to work! The abrasion resistant hose with quick connect fittings has an assortment of tips allowing you to clean and spray in varying degrees: 0°, 15°, 25°, 40° for greater flexibility. Manufactured in the USA, orders typically ships within 5-7 days.
3800 PSI Pressure Washer Features and Benefits
3.5 GPM HONDA® GX270 engine at 3.5 GMP
Reliable CAT® triplex plunger pump
3800 PSI
Steel-braided Monster Hose 3/8 in. x 50 ft.
5 Quick connect nozzle tips
150 gallon water tank
Easy to maneuver and set up
DOT compliant for safe use on public roadways, the trailer mounted 3800 PSI Pressure Washer is versatile and powerful enough to use for the following applications:
Commercial Cleaning
Sanitation
Parks and Playgrounds
Farm Equipment
Heave Machinery
Mobile Detailing
Solar Panels
City Walkways
Poultry Houses
Other Trailer Mounted Pressure Washer Options
Looking for other features or sizes? We have an assortment of trailer mounted pressure washers for sale in a variety of styles, sizes, and components. View our Mobile Pressure Washer Trailers. Call our specialists, and we will be happy to help.
Customers Also Viewed These Products
If you have questions about a our pressure washer trailers, give us a call at 1-863-261-8388 or request a price quote.