8000 gallon Water Tank
FAQ: What is needed to set up my tank?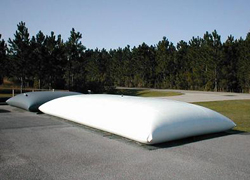 Question: I need an 8000 gallon water tank to store drinking water at my location. I need this tank to beable to fit in a location that only has a height of about 3 feet. Can a drinking water tank be made with a height this low? Will they be approved for drinking water? What kind of requirements or setup do I need to do before these tanks are installed?
Answer: The collapsible water tank is an excellent choice for the storage of drinking water in a location. These tanks are well equipped for this type of storage and have been FDA and NSF 61 approved for the safe and effective storage of potable water.

If you have questions about products, give us a call at 1-772-646-0597 or request a price quote.
Water Tank Sizing
In general, all of our collapsible tanks are designed to have an extremely low profile. We have made tanks as large as 100,000 gallons that only have a profile of five feet. For a tank with significantly less than this amount of water (8000 gallons), the standard height is three feet. This is well equipped to fit in this location.
Approximate sizing for these tanks will includes:
19 feet in length

19 feet in width

3 feet in height
Collapsible Water Tank Setup
Setup for these tanks is incredibly easy. Requirements you will need to work on prior to a tank installation will vary depending on where you are planning to store this tank.
If you are needing to store this tank in an outdoor location, the surface should be level and free from debris or other sharp objects. Ground liners or ground cloths may be put down on the surface to help further protect against abrastion. If you require equipment to help protect your surface, please let us know. We often include ground cloths and liners with our tanks to help protect all areas from abrasion.
Learn more about the 8000 gallon water tank

If you have questions about products, give us a call at 1-772-646-0597 or request a price quote.
© Copyright GEI Works 2011-2020. All rights reserved.
GEI Works is a global solutions provider offering our expertise and products to the following states, countries, territories and provinces:

States:

Alabama, AL | Alaska, AK | Arizona, AZ | Arkansas, AR | California, CA | Colorado, CO | Connecticut, CT | Delaware, DE | Florida, FL | Georgia, GA | Hawaii, HI | Idaho, ID | Illinois, IL | Indiana, IN | Iowa, IA | Kansas, KS | Kentucky, KY | Louisiana, LA | Maine, ME | Maryland, MD | Massachusetts, MA | Michigan, MI | Minnesota, MN | Mississippi, MS | Missouri, MO | Montana, MT | Nebraska, NE | Nevada, NV | New Hampshire, NH | New Jersey, NJ | New Mexico, NM | New York, NY | North Carolina, NC | North Dakota, ND | Ohio, OH | Oklahoma, OK | Oregon, OR | Pennsylvania, PA | Rhode Island, RI | South Carolina, SC | South Dakota, SD | Tennessee, TN | Texas, TX | Utah, UT | Vermont, VT | Virginia, VA | Washington, WA | West Virginia, WV | Wisconsin, WI | Wyoming, WY

Countries, Territories and Provinces:

Malaysia, MY | Indonesia, ID | Antigua and Barbuda, AG | Bahamas, BS | Barbados, BB | Belize, BZ | British Virgin Islands, VG | Cayman Islands, KY | Dominican Republic, DO | Grenada, GD | Haiti, HT | Jamaica, JM | Montserrat, MS | Puerto Rico, PR | Saint Lucia, LC | Saint Vincent and the Grenadines, VC | Trinidad and Tobago, TT | Turks and Caicos Islands, TC | United States, US | US Virgin Islands, VI | Mexico, MX | Campeche, CM | Quintana Roo, QR | Yucatan, YU | Central and South America | Canada, CA | Alberta, AB | British Columbia, BC | Manitoba, MB | New Brunswick, NB | Newfoundland and Labrador, NL | Northwest Territories, NT | Nova Scotia, NS | Nunavut, NU | Ontario, ON | Prince Edward Island, PE | Quebec, QC | Saskatchewan, SK | Yukon, YT