500 Gallon Water Tank
FAQ: What options are there for 500 gallon water tanks?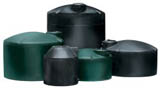 Question: Hi. I need a 500 gallon water tank, vertical, that I can used to store drinking water produced from my water plant. Can you help me?
Answer: Thank you for contacting us! A great choice for vertical water storage is one of our Vertical Poly Water Storage Tanks. These closed top units are made in a vertical design that protects stored water and does not cause any hassles during liquid storage. Like many of our plastic units, these tanks are made from high quality polyethylene that provides built-in resistance to rust, corrosion, impact, and more.
View Other Water Tank Options.
Features:
Built for quality drinking water storage, these tanks contain several features that help ensure that your water is stored safely and effectively. Some of these features include:
Available Black Exterior: The darker exterior on this tanks is made for algae-resistance and is ideal for tanks that will be stored in outdoor locations. The exteriors of these tanks work to block out light so algae will not grow inside the tank.
Tie Down Slots: Vertical tanks are additionally equipped with tie down slots that provide an easy way to add extra security and stability to your water storage.
FDA Approved Resin: Like many of our poly tanks, these storage units are equipped with an FDA approved resin for safe potable water storage.
Other Features Found Include:
Specific Gravity of 1.5
10" Vented Lids

18" Vented Lids for 2500 gallon Tank

Gallonage Marker
2" Bulkhead Fittings with Siphon Tube
Available Capacities: 200 to 2500 gallons
While these tanks would be ideal for vertical storage, we also have several other 500 gallon tanks in horizontal and rectangular shapes that can help with drinking water storage. To view our complete water storage tank variety, please feel free to check out our Potable Water Tanks Overview Page.

If you have questions about products, give us a call at 1-772-646-0597 or request a price quote.
© Copyright GEI Works 2011-2020. All rights reserved.
GEI Works is a global solutions provider offering our expertise and products to the following states, countries, territories and provinces:

States:

Alabama, AL | Alaska, AK | Arizona, AZ | Arkansas, AR | California, CA | Colorado, CO | Connecticut, CT | Delaware, DE | Florida, FL | Georgia, GA | Hawaii, HI | Idaho, ID | Illinois, IL | Indiana, IN | Iowa, IA | Kansas, KS | Kentucky, KY | Louisiana, LA | Maine, ME | Maryland, MD | Massachusetts, MA | Michigan, MI | Minnesota, MN | Mississippi, MS | Missouri, MO | Montana, MT | Nebraska, NE | Nevada, NV | New Hampshire, NH | New Jersey, NJ | New Mexico, NM | New York, NY | North Carolina, NC | North Dakota, ND | Ohio, OH | Oklahoma, OK | Oregon, OR | Pennsylvania, PA | Rhode Island, RI | South Carolina, SC | South Dakota, SD | Tennessee, TN | Texas, TX | Utah, UT | Vermont, VT | Virginia, VA | Washington, WA | West Virginia, WV | Wisconsin, WI | Wyoming, WY

Countries, Territories and Provinces:

Malaysia, MY | Indonesia, ID | Antigua and Barbuda, AG | Bahamas, BS | Barbados, BB | Belize, BZ | British Virgin Islands, VG | Cayman Islands, KY | Dominican Republic, DO | Grenada, GD | Haiti, HT | Jamaica, JM | Montserrat, MS | Puerto Rico, PR | Saint Lucia, LC | Saint Vincent and the Grenadines, VC | Trinidad and Tobago, TT | Turks and Caicos Islands, TC | United States, US | US Virgin Islands, VI | Mexico, MX | Campeche, CM | Quintana Roo, QR | Yucatan, YU | Central and South America | Canada, CA | Alberta, AB | British Columbia, BC | Manitoba, MB | New Brunswick, NB | Newfoundland and Labrador, NL | Northwest Territories, NT | Nova Scotia, NS | Nunavut, NU | Ontario, ON | Prince Edward Island, PE | Quebec, QC | Saskatchewan, SK | Yukon, YT