500 Gallon Rain Water Storage Tank
FAQ: Can a collapsible tank be connected to a downspout?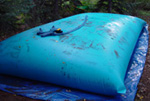 Question: Hello. I need a 500 gallon rain water storage tank, but I want to know more specifically about the collapsible tanks. In particular, can you connect it to a downspout or any kind of pipes? How well equipped is it to handle rain water?
Answer: A Collapsible Tank is an excellent choice for rain water storage due to its flexible exterior, durable fabric, and multiple construction options. Customers have frequently chosen this tank as an economical alternative for low level or under deck storage. These tanks can be stored in several tight spots including:
Under Front Porches or Decks
Basements
Crawl Spaces

Outdoor Storage Areas
Industrial Spacing

If you have questions about products, give us a call at 1-772-646-0597 or request a price quote.
Connection to Downspouts and/or Piping: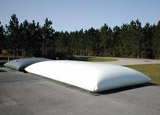 Collapsible rain water tanks are designed for flexible storage options and have been successfully used with several fittings and hookup connections. Some of the most common fittings found on tanks will include:
Ball Valves
Cam lock, Storz or Threaded Adapters
Pressure Relief Vents
Typical Fitting Sizing: 3/4" through 2"
Collapsible tanks have frequently been connected to downspouts through the use of a inlet setup system. This will allow you to collect rainwater directly from the roof or gutters of your home or building.
Since most rainwater will usually initial catch several amounts of debris or leaves, filters are commonly used to help separate these items from your water storage. This can help prevent these items from entering your 500 gallon rain water storage tank.

Collapsible Tank Advantages:
Using a collapsible tank for rainwater storage will offer several advantages in terms of storage capacity, location and uses. Some common advantages customers have found when using this type of tank includes the following:
Easy Installation: Does not include rigid walls or a set structure for installation.


Economical: Lower shipping costs due to its flexible structure and its ability to be folded up or rolled up when its transported.


Low Profile: This allows the tank to be stored in unique locations such as under a deck or in a basement.

If you have questions about products, give us a call at 1-772-646-0597 or request a price quote.
© Copyright GEI Works 2011-2020. All rights reserved.
GEI Works is a global solutions provider offering our expertise and products to the following states, countries, territories and provinces:

States:

Alabama, AL | Alaska, AK | Arizona, AZ | Arkansas, AR | California, CA | Colorado, CO | Connecticut, CT | Delaware, DE | Florida, FL | Georgia, GA | Hawaii, HI | Idaho, ID | Illinois, IL | Indiana, IN | Iowa, IA | Kansas, KS | Kentucky, KY | Louisiana, LA | Maine, ME | Maryland, MD | Massachusetts, MA | Michigan, MI | Minnesota, MN | Mississippi, MS | Missouri, MO | Montana, MT | Nebraska, NE | Nevada, NV | New Hampshire, NH | New Jersey, NJ | New Mexico, NM | New York, NY | North Carolina, NC | North Dakota, ND | Ohio, OH | Oklahoma, OK | Oregon, OR | Pennsylvania, PA | Rhode Island, RI | South Carolina, SC | South Dakota, SD | Tennessee, TN | Texas, TX | Utah, UT | Vermont, VT | Virginia, VA | Washington, WA | West Virginia, WV | Wisconsin, WI | Wyoming, WY

Countries, Territories and Provinces:

Malaysia, MY | Indonesia, ID | Antigua and Barbuda, AG | Bahamas, BS | Barbados, BB | Belize, BZ | British Virgin Islands, VG | Cayman Islands, KY | Dominican Republic, DO | Grenada, GD | Haiti, HT | Jamaica, JM | Montserrat, MS | Puerto Rico, PR | Saint Lucia, LC | Saint Vincent and the Grenadines, VC | Trinidad and Tobago, TT | Turks and Caicos Islands, TC | United States, US | US Virgin Islands, VI | Mexico, MX | Campeche, CM | Quintana Roo, QR | Yucatan, YU | Central and South America | Canada, CA | Alberta, AB | British Columbia, BC | Manitoba, MB | New Brunswick, NB | Newfoundland and Labrador, NL | Northwest Territories, NT | Nova Scotia, NS | Nunavut, NU | Ontario, ON | Prince Edward Island, PE | Quebec, QC | Saskatchewan, SK | Yukon, YT