20000 Liter Collapsible Water Tank
FAQ: Can you store drinking water in collapsible tanks?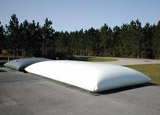 Question: Hello. I require a 20000 liter collapsible water tank. I will need this tank to be able to successfully store drinking water. Do you have a tank this size available? Can it store drinking water?
Answer: The Drinking Water Storage Bladder is an excellent choice for potable water storage and is available in sizes ranging anywhere from 25 to 210,000 gallons. These tanks are flexible in their design, which allows them to be easily transported and stored in your location. For tank that is around 20,000 liters in capacity, that typical size for the tank will be approximately 17' L x 16' W x 2.5' H. For more information, check out the 20000 liter Collapsible Water Tank.

If you have questions about products, give us a call at 1-772-646-0597 or request a price quote.
Collapsible Tank Features:
Since you intend on using this collapsible tank for the storage of potable water, any tank you receive will be built with a material that is NSF 61 and FDA approved. This helps to ensure that your water remains safe for consumption.
Features for this tank include:
Fabrics: The fabrics used on this tank include a polyurethane, polymer alloy and E PVC coated material.

Fittings: . Common fittings include those that measure 3/4" through 2" and are camlock, storz or threaded.

Optional Fittings: While our standard range of fittings is 3/4" through 2", we also offer several larger sizes (4" through 6") which are available upon request. Other common optional fittings include drain ports, emergency plugs, and pressure relief valves.

All drinking water bladder tanks are built with an interior fabric that meets NSF 61 and FDA requirements for the safe storage of potable water.
Additional Tank Options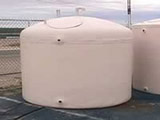 While the Water Bladder Tank is an easy and flexible way to store water in your location, we also offer additional 20,000 liter water tanks that may be able to provide a successful storage in your location. Options include the following:
Steel Water Tanks: One of our more robust water storage options is the steel storage tank. Made from welded or stainless steel, these tanks can be built in above ground or below ground 20,000 liter models to accommodate your storage requirements.

Fiberglass Water Tanks: Another reliable option is the fiberglass storage tank. These tanks are robust in design and offer a high resistance to denting and cracking, making the unit the perfect option potable water storage.
Learn More about the 20000 liter Collapsible Water Tank

If you have questions about products, give us a call at 1-772-646-0597 or request a price quote.
© Copyright GEI Works 2011-2020. All rights reserved.
GEI Works is a global solutions provider offering our expertise and products to the following states, countries, territories and provinces:

States:

Alabama, AL | Alaska, AK | Arizona, AZ | Arkansas, AR | California, CA | Colorado, CO | Connecticut, CT | Delaware, DE | Florida, FL | Georgia, GA | Hawaii, HI | Idaho, ID | Illinois, IL | Indiana, IN | Iowa, IA | Kansas, KS | Kentucky, KY | Louisiana, LA | Maine, ME | Maryland, MD | Massachusetts, MA | Michigan, MI | Minnesota, MN | Mississippi, MS | Missouri, MO | Montana, MT | Nebraska, NE | Nevada, NV | New Hampshire, NH | New Jersey, NJ | New Mexico, NM | New York, NY | North Carolina, NC | North Dakota, ND | Ohio, OH | Oklahoma, OK | Oregon, OR | Pennsylvania, PA | Rhode Island, RI | South Carolina, SC | South Dakota, SD | Tennessee, TN | Texas, TX | Utah, UT | Vermont, VT | Virginia, VA | Washington, WA | West Virginia, WV | Wisconsin, WI | Wyoming, WY

Countries, Territories and Provinces:

Malaysia, MY | Indonesia, ID | Antigua and Barbuda, AG | Bahamas, BS | Barbados, BB | Belize, BZ | British Virgin Islands, VG | Cayman Islands, KY | Dominican Republic, DO | Grenada, GD | Haiti, HT | Jamaica, JM | Montserrat, MS | Puerto Rico, PR | Saint Lucia, LC | Saint Vincent and the Grenadines, VC | Trinidad and Tobago, TT | Turks and Caicos Islands, TC | United States, US | US Virgin Islands, VI | Mexico, MX | Campeche, CM | Quintana Roo, QR | Yucatan, YU | Central and South America | Canada, CA | Alberta, AB | British Columbia, BC | Manitoba, MB | New Brunswick, NB | Newfoundland and Labrador, NL | Northwest Territories, NT | Nova Scotia, NS | Nunavut, NU | Ontario, ON | Prince Edward Island, PE | Quebec, QC | Saskatchewan, SK | Yukon, YT