20,000 Gallon Collapsible Water Tank
Ground Preparation for Collapsible Tanks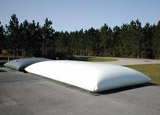 Question: Hello. I am interested in gathering additional information on your 20,000 gallon collapsible water tank. I was wondering if there was a specific way we needed to prepare the ground or surface that we will be placing this collapsible tank on? Would a canvas work?
Answer: Thank you for contacting us! We do offer a 20,000 gallon Water Storage Bladder that has been effectively used for the storage of drinking water, gray water and many fuel items. Depending on the type of material you need store, different water tanks may have different sizing or specifications. In general, the 20,000 gallon water tank typically features the dimensions of 34 feet in length, 24 feet in width, and 3.3 feet in height (34' L x 24' W x 3.3' H).

If you have questions about products, give us a call at 1-772-646-0597 or request a price quote.
Collapsible Tank Placement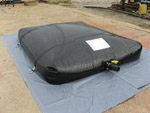 When using a 20,000 Gallon Collapsible Water Tank in any location, there are a couple of general precautions you could take to help extend the life of your tank and prevent damage to your storage unit.
In general, the collapsible tank works best when used on a flat or level surface. This helps to prevent the tank from moving or rolling. In addition, the use of a ground cloth or other surface protector can help to protect your tank from damage during storage.
The standard ground cloth that we offer for tank protection is a coated PVC or Vinyl material. Different materials can work, as long as your goal is for protection from ground elements.
If you are looking for a ground protector that can serve as more of a secondary containment item, something that includes more of a berm wall might be a better option. Additionally, you will also want to make sure that material you use on the ground is equipped to handle or contain the liquid you will be storing inside the tank.
Collapsible Tank Features
Typical features for the collapsible tank include several different fittings and materials designed to match the material you need to store. For example, if you will be using this 20000 gallon collapsible water tank to store drinking water, tanks will include an inner lining that is NSF 61 and FDA approved for the safe storage of potable water.
Capacities: Range from 25 to 210,000 gallons
Reliable Outer Fabrics (depends on intended liquid storage)
Standard Fittings: 3/4" through 2" (4" through 6" also available)
Fitting Materials: Aluminum, PVC, Stainless Steel, Polypropylene
Fitting Types: Camlock, Storz, Threaded
Optional Accessories: Ports, Repair Kits, Pressure Relief Valves, Emergency Plugs

If you have questions about products, give us a call at 1-772-646-0597 or request a price quote.
© Copyright GEI Works 2011-2020. All rights reserved.
GEI Works is a global solutions provider offering our expertise and products to the following states, countries, territories and provinces:

States:

Alabama, AL | Alaska, AK | Arizona, AZ | Arkansas, AR | California, CA | Colorado, CO | Connecticut, CT | Delaware, DE | Florida, FL | Georgia, GA | Hawaii, HI | Idaho, ID | Illinois, IL | Indiana, IN | Iowa, IA | Kansas, KS | Kentucky, KY | Louisiana, LA | Maine, ME | Maryland, MD | Massachusetts, MA | Michigan, MI | Minnesota, MN | Mississippi, MS | Missouri, MO | Montana, MT | Nebraska, NE | Nevada, NV | New Hampshire, NH | New Jersey, NJ | New Mexico, NM | New York, NY | North Carolina, NC | North Dakota, ND | Ohio, OH | Oklahoma, OK | Oregon, OR | Pennsylvania, PA | Rhode Island, RI | South Carolina, SC | South Dakota, SD | Tennessee, TN | Texas, TX | Utah, UT | Vermont, VT | Virginia, VA | Washington, WA | West Virginia, WV | Wisconsin, WI | Wyoming, WY

Countries, Territories and Provinces:

Malaysia, MY | Indonesia, ID | Antigua and Barbuda, AG | Bahamas, BS | Barbados, BB | Belize, BZ | British Virgin Islands, VG | Cayman Islands, KY | Dominican Republic, DO | Grenada, GD | Haiti, HT | Jamaica, JM | Montserrat, MS | Puerto Rico, PR | Saint Lucia, LC | Saint Vincent and the Grenadines, VC | Trinidad and Tobago, TT | Turks and Caicos Islands, TC | United States, US | US Virgin Islands, VI | Mexico, MX | Campeche, CM | Quintana Roo, QR | Yucatan, YU | Central and South America | Canada, CA | Alberta, AB | British Columbia, BC | Manitoba, MB | New Brunswick, NB | Newfoundland and Labrador, NL | Northwest Territories, NT | Nova Scotia, NS | Nunavut, NU | Ontario, ON | Prince Edward Island, PE | Quebec, QC | Saskatchewan, SK | Yukon, YT