1000 Gallon Sprayer Trailer
FAQ: Is the 1000 gallon sprayer on a DOT trailer?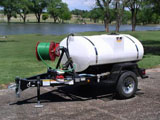 Question: Hi. I am looking for a 1000 gallon sprayer. I will be driving this unit around so I would prefer if it came with a trailer system. What would you recommend?
Answer: Thank you for contacting us! We do have a 1000 gallon tank sprayer and trailer that can be used around your farm and various other facilities. This trailer sprayer comes with a tank, trailer, and adjustable ball hitch to help make transportation of your water fast and easy.

If you have questions about products, give us a call at 1-863-261-8388 or request a price quote.
Looking for other features? We have an assortment of water trailer vendors with an extensive offering of styles, sizes, and components at exceptional pricing. All capacities listed are for use with water storage. We ship from warehouses across the U.S. and our team will work with you to provide the equipment that fits your needs, delivered within the time frame that you need it. Contact Us for information on other liquid storage options.
The 1000 gallon version of this sprayer trailer and tank comes with a polyethylene lawn and garden tank. This lawn and garden tank has been made with legs to help give the tank more support on the trailer. Additionally, it contains inserts that have been molded onto the bottom of the tank to help bolt the tank to a base.
To help make your transportation smooth, this trailer comes with heavy-duty fenders, highway tires, and back lights that make it DOT Compliant. This allows you to move the tank to new locations safely and with little hassle.
The trailer tank and sprayer has been used in a variety of applications including landscaping, watering of tall trees, putting out grass fires and maintaining live stock.
In order to power your system, you can choose the pump, reel and engine that will work best for you.
Water Tank Trailer Engine Choices:
Honda Engine
Briggs & Stratton Engine
Water Tank Trailer Reel Choices:
Electric Hose Reel
Spring Rewind Hose Reel
Hand Crank 180° Swivel Hose Reel
Water Tank Trailer Pump Choices:
Select from any size in the range of 4 to 20 GPM (positive displacement)--up to 580 PSI
This trailer has the specifications of 109 inches in length and 61 inches in width. Its wheel track measures 53.5 inches. For more information regarding these trailers and tanks, check out this Sprayer Tank Product Page.
For freeze protection for your water trailer or skid, our Water Trailer Heater Blankets are exactly what you need . When cold weather affects the viscosity of fuel, fluids, and other materials you can lose production time, adding additional costs. Power blankets keep your tanks and smaller corrugated/steel tanks at constant temperature, preventing fluids from freezing in extreme conditions. We customize thermal blankets to meet your specific needs, no matter the tank size or shape. Call us today to find out more!
Check our Turf Trailer Sprayer as an additional option.
© Copyright Water Storage Containers 2011-2023. All rights reserved.
Water Storage Containers is a global solutions provider offering our expertise and products to the following states, countries, territories and provinces:

States:

Alabama, AL | Alaska, AK | Arizona, AZ | Arkansas, AR | California, CA | Colorado, CO | Connecticut, CT | Delaware, DE | Florida, FL | Georgia, GA | Hawaii, HI | Idaho, ID | Illinois, IL | Indiana, IN | Iowa, IA | Kansas, KS | Kentucky, KY | Louisiana, LA | Maine, ME | Maryland, MD | Massachusetts, MA | Michigan, MI | Minnesota, MN | Mississippi, MS | Missouri, MO | Montana, MT | Nebraska, NE | Nevada, NV | New Hampshire, NH | New Jersey, NJ | New Mexico, NM | New York, NY | North Carolina, NC | North Dakota, ND | Ohio, OH | Oklahoma, OK | Oregon, OR | Pennsylvania, PA | Rhode Island, RI | South Carolina, SC | South Dakota, SD | Tennessee, TN | Texas, TX | Utah, UT | Vermont, VT | Virginia, VA | Washington, WA | West Virginia, WV | Wisconsin, WI | Wyoming, WY

Countries, Territories and Provinces:

Malaysia, MY | Indonesia, ID | Antigua and Barbuda, AG | Bahamas, BS | Barbados, BB | Belize, BZ | British Virgin Islands, VG | Cayman Islands, KY | Dominican Republic, DO | Grenada, GD | Haiti, HT | Jamaica, JM | Montserrat, MS | Puerto Rico, PR | Saint Lucia, LC | Saint Vincent and the Grenadines, VC | Trinidad and Tobago, TT | Turks and Caicos Islands, TC | United States, US | US Virgin Islands, VI | Mexico, MX | Campeche, CM | Quintana Roo, QR | Yucatan, YU | Central and South America | Canada, CA | Alberta, AB | British Columbia, BC | Manitoba, MB | New Brunswick, NB | Newfoundland and Labrador, NL | Northwest Territories, NT | Nova Scotia, NS | Nunavut, NU | Ontario, ON | Prince Edward Island, PE | Quebec, QC | Saskatchewan, SK | Yukon, YT