1000 gallon Rainwater Storage Tank
FAQ: Do you make a rainwater tank to hold 1,000 gallons?
Question:
Hi. I was hoping to get some information about a 1000 gallon rainwater storage tank. We are requiring a rainwater tank that we can use on our farm and need an economical option.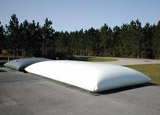 Answer: Thank you for contacting us! One of the most economical and flexible options for rainwater storage and collection is the 1000 gallon Rain Water Storage Tank. These collapsible tanks are made with durable materials and typically feature an FDA and NSF 61 approval for the safe storage of drinking water. All tanks are equipped for outdoor storage and are perfect for flexible rainwater collection.

If you have questions about products, give us a call at 1-772-646-0597 or request a price quote.
Collapsible Tank Advantages
The collapsible rainwater storage tank is designed for flexibility, making it a unique storage option for both indoor and outdoor rainwater storage and collection. These tanks can be hooked up to pumps, pipes, and hoses to effectively collect and supply rainwater. Advantages to using this tank include:
Drinking Water Approved: Each 1000 gallon rainwater storage tank is built to NSF 61 and FDA approval for safe drinking water storage.



Fittings: All of our tanks typically come with a 2" fitting that is made from either polypropylene, stainless steel and aluminum. Fittings include camlock, storz or threaded fittings to accommodate your required hookup items.



Flexible Design: One of the best advantages of the collapsible tank is its naturally flexible design. This allows tanks to fit in unique locations such as under decks, in crawl spaces, or in various other low profile storage areas around your farm or location.



Economical: When considering storage capacities of 1000 gallons or more, a major part of your cost is transportation. When compared to a rigid plastic, steel or fiberglass tank, the collapsible tank can offer huge savings in transportation as the tank is designed to lay flat when empty.



Easy Mobility: In addition to transportation savings, the collapsible tank is also incredibly easy to transport when empty. Tanks are often rolled or folded and moved to their appropriate setup location.


If you have questions about products, give us a call at 1-772-646-0597 or request a price quote.
Sizing
The collapsible tank is made in a wide range of sizes and capacities to meet various storage requirements. Tanks can feature a capacity anywhere from 25 to 210,000 gallons.
In terms of standard listings, the closest tank size would be our 1100 gallon model. This tank offers filled size of approximately nine feet in length, eight feet in width, and two feet in height (9' L x 8' W x 2' H).
© Copyright GEI Works 2011-2020. All rights reserved.
GEI Works is a global solutions provider offering our expertise and products to the following states, countries, territories and provinces:

States:

Alabama, AL | Alaska, AK | Arizona, AZ | Arkansas, AR | California, CA | Colorado, CO | Connecticut, CT | Delaware, DE | Florida, FL | Georgia, GA | Hawaii, HI | Idaho, ID | Illinois, IL | Indiana, IN | Iowa, IA | Kansas, KS | Kentucky, KY | Louisiana, LA | Maine, ME | Maryland, MD | Massachusetts, MA | Michigan, MI | Minnesota, MN | Mississippi, MS | Missouri, MO | Montana, MT | Nebraska, NE | Nevada, NV | New Hampshire, NH | New Jersey, NJ | New Mexico, NM | New York, NY | North Carolina, NC | North Dakota, ND | Ohio, OH | Oklahoma, OK | Oregon, OR | Pennsylvania, PA | Rhode Island, RI | South Carolina, SC | South Dakota, SD | Tennessee, TN | Texas, TX | Utah, UT | Vermont, VT | Virginia, VA | Washington, WA | West Virginia, WV | Wisconsin, WI | Wyoming, WY

Countries, Territories and Provinces:

Malaysia, MY | Indonesia, ID | Antigua and Barbuda, AG | Bahamas, BS | Barbados, BB | Belize, BZ | British Virgin Islands, VG | Cayman Islands, KY | Dominican Republic, DO | Grenada, GD | Haiti, HT | Jamaica, JM | Montserrat, MS | Puerto Rico, PR | Saint Lucia, LC | Saint Vincent and the Grenadines, VC | Trinidad and Tobago, TT | Turks and Caicos Islands, TC | United States, US | US Virgin Islands, VI | Mexico, MX | Campeche, CM | Quintana Roo, QR | Yucatan, YU | Central and South America | Canada, CA | Alberta, AB | British Columbia, BC | Manitoba, MB | New Brunswick, NB | Newfoundland and Labrador, NL | Northwest Territories, NT | Nova Scotia, NS | Nunavut, NU | Ontario, ON | Prince Edward Island, PE | Quebec, QC | Saskatchewan, SK | Yukon, YT