Cistern Tank
---
Underground Water Storage Tank
Potable Water Cistern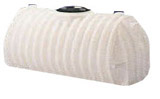 Plastic Underground Water Storage Tanks are an economical option for below ground water storage. Safe for holding and storing a range of water types, these potable water cisterns have been used as drinking water holding tanks, rainwater cisterns, and even gray water storage tanks. All underground poly tanks are built with interior resisns that meet FDA requirements for the safe storage of potable water.
Due to the demanding nature of below ground storage, plastic underground tanks are made with a ribbed design that increases the strength and storage potential of the tanks. Each potable water cistern is sized to hold up to 1600 gallons of water.
Features:
Made from One Piece of Seamless Polyethylene
Ribbed Exterior
Self Locking Covers
Light in Weight
Resin Complies with FDA 21 CFR 177.150 (c) 3.1 and 3.2

Benefits:
Light Weight Fabric
Easy Installation
Robust and Rugged Exterior
Rated for Underground Storage
Safe for Potable Water

Typical Applications:
Rainwater Collection
Water Storage
Vacation Home Water Storage
Below Ground Water Storage

Underground Water Storage Tank Technical Specifications

Part Number

Capacity (gal)

Size in Inches

325
54D x 51
600
101 x 51 x 58
1000
86 x 65 x 68
1200
102 x 60 x 58
1250
86 x 76 x 68
1700
143 x 55 x 66

Looking for an underground tank that can store more than 1600 gallons? Not a problem! For sizing above 1600 gallons, please check out the following tank options:
Tanks. Typical fiberglass sizing includes capacities up to 20,000 gallons, while steel sizing can go as high as 50,000 gallons. For more information, check out our Underground Water Storage Tanks.
---

Customers Who Viewed This Product Also Viewed: