Fire Control Water Trailer
---
Tank and Trailer Water Systems
Fire Control Water Wagon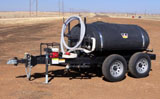 Fire Control Trailer Water Systems are robust units designed to help address small grass or cotton fires around a farm or agricultural area. Available with all the necessary storage and transportation equipment these water wagon trailers bring needed water and supplies during emergencies. Standard fire control
water wagons come with a polyethylene storage tank, trailer, hose, pump and engine. Items can be added
or removed as needed to create the perfect trailer water system for your needs.
Standard sizing for tank and trailer water systems are 500, 800 or 1025 gallons. When not used for fire suppression these tank and trailer water systems can also be used for irrigation and tree spraying, dust suppression, arena and equipment cleaning or livestock watering. With a DOT approved rating, these water trailers have also been a favorite for water transportation to and from various locations. For more information regarding other water wagon options please visit our Portable Water Tanks.
If you have questions about these products, give us a call at +1-772-646-0597 or request a price quote. *Ask about our special financing options!
Features:
Tank Sizes: 500, 800 or 1025 gallon
25 foot Fire Hose
20 foot Suction Hose
Adapter for Fire Hydrants
4 hp Honda Engine with 2" Pump
Galvanized Manifolds
Surge Brakes
Benefits:
Complete Fire Suppression System
Quickly Addresses and Suppresses Fires
Brings Large Volumes of Water to Sites
Can Attach Directly to Fire Hydrants
Durable and Resilient Design
Multi-Functional
Doubles as Water Transportation or Dust Suppression Models
Typical Applications:
Small Fire Suppression
Grass Fires and Brush Fire Mitigation
Agricultural Protection
Water Transportation
Watering Vegetation
Spraying Down Livestock
Dust Suppression
Dirt Packing
Irrigation
Tree Spraying

Fire Control Trailer Water Systems Technical Specifications

Part Number
FC-500-S
FC-800-S
W1228-GIN
Tank
500 gallon Elliptical
800 gallon
Elliptical Leg
1025 gallon Leg
Length
165"
168"
200"
Width
84"
86"
81"
Weight
1740 lbs.
1950 lbs.
2150 lbs.
Frame
6" Channel Iron
6" Channel Iron
6" Channel Iron
Axles
Tandem Slipper Spring
Tandem Torsion Spring
Tandem Torsion Spring
Tandem Axle Rating
7000 lbs.
12,000 lbs.
14,000 lbs
Wheels
15" x 6"
6 hole
5 1/2" Hole Pattern
15" x 6"
6 hole
5 1/2" Hole Pattern
16" x 6"
6 hole
6" Hole Pattern
Wheel Track
72"
76"
68"
Brakes
Tandem Surge
Tandem Surge
-
Tires
ST225/75D15
7.50-16LT
7.50-16LT
Options
W120-E1/6
Fender Kit with Anti Siphon Fill Kit
(may be required for municipal water sources)
W120-E2/6
Fender Kit with Anti Siphon Fill Kit
(may be required for municipal water sources)
W120-E3/6
Fender Kit with Anti Siphon Fill Kit
(may be required for municipal water sources)
Included with all
2" Pump
4 hp Honda Engine
2" Suction Hose with Strainer
25' x 1 1/2" Flat Fire Hose and Nozzle
25' x 5/8" Pressure Hose and Trigger Gun
Galvanized Manifolds
Galvanized Spray Bar
Surge Brakes (off road use, not DOT approved for highway use)

---