Low Profile Pick-Up Truck Tank
---
Pickup Truck Emergency
Water Storage Container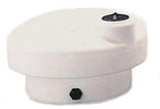 The pickup truck style emergency water storage container is the perfect solution for any location that requires water transport, storage, or quick emergency supply. Made with a low profile design, these tanks are able to fit neatly in the back of pickup trucks and other transportation vehicles for quick mobility to and from sites. Standard design of the tanks offers increased visibility for driver during transportation. These plastic tanks are drinking water safe.
Pickup Truck Tanks are made from a high resistance polyethylene material that is high in strength and support. Interior resins for the tanks are built to meet FDA requirements for safe drinking water storage. Whether you need backup water storage or a way to transport fresh water, this is the tank for you. These tanks are prefectly suited for use during hurricane relief efforts. Don't wait to prepare for hurricane and flood relief water storage, be prepared for emergencies!
Emergency Water Storage Container Features:
Resin Complies with FDA 21 CFR 177.1520 (c) 3.1 and 3.2
UV Stabilized
Made from Seamless Polyethylene
Low Profile
Emergency Water Storage Container Benefits:
Low Profile Tank Design
Easy to Transport from Site to Site
UV Rated for Outdoor Use
High Strength Exterior
Rated to Handle Drinking Water
Typical Applications:
Supply Relief After Disasters
Transportation to and from Locations
Water Storage Around Homes and Facilities
Agricultural Water Transport

If you have questions about these above ground water storage tanks, give us a call at +1-772-646-0597 or request a price quote.
Pickup Truck Tank Technical Specifications

Part Number

Capacity (gal)

Size in Inches
(Dia x Height)

210

60" dia. X 51" H

325

62" dia. X 49" H

425

65" dia. X 49" H

465

63" dia. X 51" H

In addition to the plastic pickup truck tanks featured here, we also offer several portable water tanks to help with water transportation and storage. Options include 500-1600 gallon water trailers, plastic portable tanks and more. For more information on our complete water transportation variety, please check out our Portable Water Tanks & Trailers.

---

Customers Who Viewed This Portable Plastic Water Tank Also Viewed: