Elliptical Poly Tank
---
Emergency Drinking Water Storage
Elliptical Poly Tank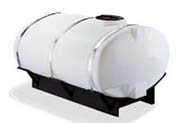 Elliptical Emergency Drinking Water Storage Tanks are a low profile transportation tank used around farms, nurseries and other rural areas where frequent water transport is required. Built with robust fabric materials, these tanks are shaped in a way that allows them to fit neatly into saddles or in the back of pickup trucks. This makes them easy to store, move and fill while in your location.
Constructed with a robust polyethylene material, elliptical tanks are rated to successfully store water, non potable water, fertilizers and chemicals. If needed, elliptical tanks are also available with built in legs to successfully remain stable in storage.
Features:
Polyethylene
FDA Approved for Potable Water
Built in Band Grooves
UV Stabilized
10" Vented Lid
Specific Gravity of 1.5
Color Options: White or Black
Benefits:
Fast Draining Bottom Sump
Low Center of Gravity for Added Balance
Built-in Grooves for Bands
UV Stabilized for Outdoor Use
Rated for Both Water and Chemicals

Typical Applications:
Emergency Supply Storage
Portable Water Storage
Agricultural Applications
Industrial or Facility Backup Supply
View other Saddle Tanks


If you have questions about these products please give us a call at +1-772-646-0597 or request a price quote. * Ask us about financing options!
Part Number

Capacity

Sizes (W x L x H)

41252
200
40" x 66" x 30"
40327
300
48" x 70" x 36"
40328
500
57" x 82" x 44"
40329
750
69" x 88" x 48"
40330
1000
78" x 90" x 55"
47111
1600
78" x 138" x 54"
47677
2550
88" x 142" x 82"
---

Customers Who Viewed This Product Also Viewed: