Cistern Tank Liner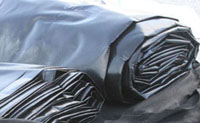 A Cistern Tank Liner is a cost-effective solution for leaking cisterns or water storage tanks. These tank liners are sized to the exact dimensions and specifications of your existing cistern tank and fit securely along the interior to hold liquids and prevent any further leaks.
Typical fabrics used for the tank liner is a PVC or Elvaloy material. Depending on your requirements fabrics can be used to successfully store either potable or non-potable water.
Features:
Cistern Tank Liner Flyer
Fabric Options: PVC, XR-5 or Elvaloy
Fabric Options for Drinking Water: FDA and NSF 61
Built to your Storage Requirements
Adjusted for Fittings or Pipes
Available for All Cistern Types (steel, plastic, concrete)
Benefits:
Economical Solution for Leaking Tanks
Custom Fit to Match Existing Units
Easy to Install and Implement
Fabric Designed to Match Specific Liquids Being Stored
Low Shipping Costs
High Strength/Long Lasting Materials
Where has the Cistern Tank Liner Been Used?
Existing Leaking Cisterns
Underground Cisterns
Old Concrete Cisterns
Basement Rainwater Cisterns
Steel Cisterns
Cisterns in Remote or Rural Areas
Well Backup Tanks

Intended Use or Liquid


Multiple Fabric Options Available including FDA and NSF 61 approved materials (includes Elvaloy, PVCs and Urethanes)


Existing Cistern Information

Size of the Cistern (dimensions)
Shape of the Cistern
Cistern Fabric (concrete, steel, etc.)



Fittings or Hardware


Any restrictions or fittings that need to be worked around when designing the liner?


Tank Liners: Due to the wide range of available fabrics for these cistern tank liners, several customers have also used these fabrics for the lining of standard tanks including frac storage tanks, potable water tanks and chemical storage tanks. Please reach out to one of our sales representatives to discuss your specific requirements at 772-646-0597.
Cistern Liner Requirements

Providing our team with the information below can be helpful in determining the best liner size and fabric for your needs. For faster quotes, please be sure to provide our team with the following information:
Dimensions of the Tank
Location of the Tank: Above Ground or Below Ground?
Type of Liquid Being Stored in the Tank
Size of the Access Area

---